LCL turns 20: as we celebrate our company's anniversary, we look back at our journey so far. We are incredibly proud of what we have accomplished and the commitment, vision, passion and growth it entails.
Our story began in 2002
Laurens van Reijen, CEO to this day, started LCL in the spring of 2002. When the Dutch American telecommunications company KPNQwest and its Ebone data center went bankrupt after the dot-com crash, Laurens acquired the data center and took the leap to begin the LCL journey. Laurens van Reijen: "Nobody believed in it back then. The crash shook the confidence in a new industry, and the data center was built for a market that failed to live up its expectations. There were few customers and demand was limited because of the dot-com crisis. I literally had to build everything up from scratch. It took six months before we had our first customer."
Nevertheless, Laurens Van Reijen immediately saw the potential of this data center. "The internet seemed like an incredible innovation and I really believed in its endless possibilities. This data center in Diegem was perfectly located for just about everything because the networks of all possible telecom and other operators run close to the data center, so it could easily be connected to it. By offering a fully carrier-neutral and redundant network at an affordable price, I believed it had the ability to become a success. But as an entrepreneur it was still a challenge: developing a new market in an industry that didn't exist before."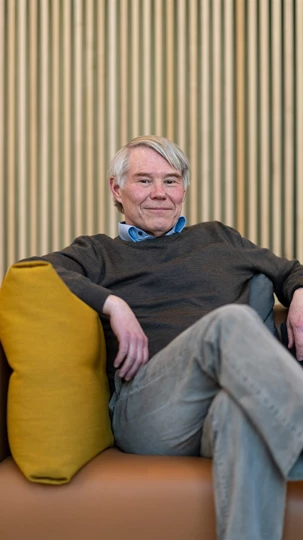 Growth over the years
It took a lot of hard work and dedication for LCL to get where it is today. "Creating an organisation is not easy. In the first years I did the invoicing, marketing and sales by myself, and even installed the cross connects in the data center."
"Building a team is crucial, but also means you have to give trust to others that they will get the job done. Continuously expanding LCL, improving our performance, but also finding the right colleagues was difficult. In the early days, it sometimes happened that we had to solve problems while being understaffed. I realized we had to grow our customer base and the size of the facilities, so we would be able to scale the organisation. With the number of employees growing, we were able to hire specialists, deepen our knowledge and work on customer experience."
Focus on long-lasting customer relationships
"Because we kept growing, business processes had to be adapted and new roles had to be created. No superfluous luxury, because by embracing the strategy of customer intimacy, we focused on building customer loyalty for the long term. So, we had to make sure that the needs of every customer were prioritized and being met. Our aim is to constantly understand our customers' concerns and commit to provide the best customer experience."

"We started small, but through the ups and downs, we were able to foster a successful company and a culture with strong values. We strive to create an environment where our employees can thrive and work with enthusiasm and dedication. Today, we have a strong management team in place, a great team and a mature organisation."
Shaping the future in a fast-changing world
Over the past 20 years, LCL has grown into one of Belgium's biggest data center companies. Through expansion and acquisition, it has continued to extend its activities in Flanders as well as Wallonia. LCL currently consists of five independent data centers: Aalst (LCL Brussels-West), Antwerp (LCL Antwerp), Diegem (LCL Brussels-North), Huizingen (LCL Brussels-South) and Gembloux (LCL Wallonia One).
"Many people see this market as boring, but it is not at all. All the new digital possibilities are facilitated by data centers: we provide the infrastructure for this digital age. In my job, I meet people that are shaping the future. This goes from entrepreneurs, established enterprises to large tech companies that are using our infrastructure to create new internet services."
Becoming Belgium's most sustainable datacenter company
LCL's vision for the long term has always been to lead the way as a sustainable data center company that operates in a responsible, environmentally friendly way.

"Data centers offer many possibilities but are also under public scrutiny because of how energy-intensive they are, and that is a reasonable concern. By continuously focusing on making sustainability an important part of all processes, we aim to contribute to a safe and livable future for everyone. Some of our plans for the future are becoming C02 neutral by 2030 and investing even more in solar parks."
The next 20 years
As LCL moves into its 20th year, it continues to stay true to its values and maintain an independent organisation that is providing a durable benefit to society.
"We are optimistic about the future and excited about the opportunities. We continue to adapt by offering high quality services that meet the dynamic technology landscape and the demands of the modern customer. We believe agility is key to respond to the shifting trends and future-proofing our business. By staying involved with our clients in the long term, developing relationships that are as successful as the projects themselves, we commit to being an enduring company for another 20 years."